From: Guanglei Cui <cuigl.csb.sunysb.edu>
Date: Wed, 29 Jun 2005 10:54:43 -0700
I didn't do anything new. I only described what I did to fit the
torsion. Sorry for the confusion. In mmp.nox.top, the 3-fold term has a
zero pk and it's the only definition for c1-os-p5-o . The original
2-fold term was replaced by this specific 3-fold term here.
I just did as you suggested yestoday, adding a 2-fold generic term with
pk of zero. I attached the prmtop and frcmod files here. Nothing
surprising here. Everything is like what you said: the gaff 2-fold term
was zeroed and the 3-fold term was added.
What I can't explain is the 2-fold term in gaff seems to only add a
constant to the total energy, as you can see from tmp.jpg. The red line
is calculated with mmp.nox.top and the black one is calculated with
mmp.gaff.top.
Regards,

--
Guanglei
David A. Case wrote:
> On Wed, Jun 29, 2005, Guanglei Cui wrote:
> 
> 
>>The zeroed c3-os-p5-o term (see 
>>mmp.nox.top) was introduced as a 3-fold term with zero pk in frcmod, and
>>it did replace the 2-fold generic term in gaff (see mmp.gaff.top).
> 
> 
> I'm still lost here.  Yesterday, you posted a prmtop file (called
> "mmp.new.top") where there were clearly *both* 2-fold and 3-fold terms
for
> C1-O1-P1-O2.  Today, your "mmp.nox.top" has only three-fold terms.  But
I
> can't tell what you did differently between yesterday and today....
> 
> ...dac
> 




text/plain attachment: b.top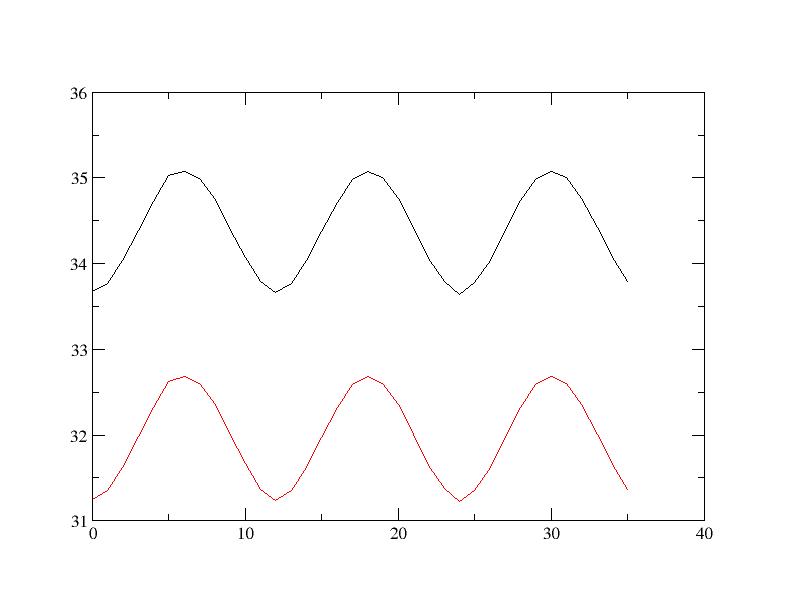 (image/jpeg attachment: tmp.jpg)
Received on Wed Apr 05 2006 - 23:49:55 PDT